For English version see below the dutch text.
Vorige week presenteerden we een probleem tussen de synchronisatie vanThunderbird en Outlook bij geforwarde (doorgestuurde) berichten. Inmiddels hebben we daar een plug-in voor QMail voor ontwikkeld. Deze plugin kan eenvoudig op een linux QMail server geinstalleerd worden.
De Forward2Reply plugin zoekt naar de specifieke thunderbird "$Forwarded" vlag en zet bij die berichten ook de algemene "replied" vlag.
Als de plugin geinstalleerd is dan ziet onze IMAP testbox er in thunderbird als volgt uit:

Zoals hierboven duidelijk zichtbaar heeft Forward2Reply bij de door Thunderbird geforwarde mail het specifieke oranje Thunderbird "$Forward" vlaggetje behouden en er een reply vlag bij gezet.
Dezelfde mailbox in Outlook 2007 ziet er dan als volgt uit: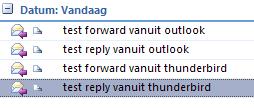 Hier is dus geen verschil meer te zien tussen een beantwoorde en een doorgestuurde mail; maar er is tenminste zichtbaar dat er iets met de mail gedaan is.
Ook in Outlook 2003 is nu zichtbaar dat een bericht is geforwarded: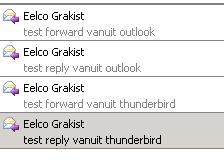 Een iPhone tenslotte snapt de specifieke vlaggetjes van Thunderbird wel en zal dus bij bericht nummer 3 beide vlaggetjes weergeven.
While synchronising an IMAP Folder between several clients there is a problem with the Forwarded Flag which Thunderbird uses to mark a forwarded message. This specific Thunderbird flag isn't understood by Microsoft Outlook; so Outlook doesn't show any flag on a Thunderbird forwarded message.
If one would forward a message with Outlook itself Outlook will flag the message with a Replied flag. While not as pretty as the Thunderbird solution you can at least see that something has been done with the message in all clients.
In order to make this information available to Outlook clients for Thunderbird forwarded messages we developed a plugin for a QMail mailserver which uses VPopMail with Courier IMAP server to publish mailboxes through IMAP. This Forward2Reply plugin adds an general (understood by Outlook) replied flag to each Thunderbird forwarded message.
Please contact us for a quotation.